Face care treatments
Masaż twarzy, szyi i dekoltu oraz głowy
30 min, 70 zł
It is one of the most pleasurable and most effective beautifying procedures. It allows you to unwind, relaxes tense muscles, improves microcirculation, smooths facial features, makes your skin firmer and oxygenates it.
Aquarelle cleansing treatment
60 min, 160 zł
It is an intensive moisturising and invigorating treatment for tired skin which needs nourishment. The aim of this treatment is to improve blood flow, drain water from lymphatic vessels, cleanse and remineralise the skin.
Thea Therapy treatment for oily and combination skin
75 min, 170 zł
Mature, oily and combination skin require special care. Tea Therapy is a treatment which restores hydrolipid balance, rejuvenates skin cells and makes your skin look fresh. After the treatment, sebum production is regulated, the skin is less shiny and pores are less visible. The skin is more nourished, firm and elastic.
Re AGE treatment for dehydrated, dull and tired skin
75 min, 180 zł
This treatment rejuvenates the skin and improves its condition. It works thanks to technologically advanced preparations which protect the skin against glycation-induced ageing and reverse its negative effects at an early stage. The treatment makes your skin visibly smoother and firmer, improves its tone and restores freshness and vitality.
Beautiful Eyes – a treatment which reduces eyelid swelling
30 min, 60 zł
Its aim is to remove the signs of being tired and overworked or lacking sleep. It also alleviates redness and relieves the feeling of dry eyes.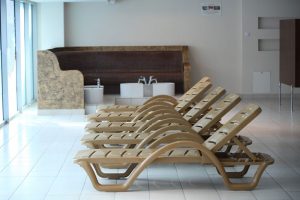 ---
Body care treatments
Cranberry Twist – a nourishing cranberry treatment
90 min, 190 zł
Cranberry extract has rejuvenating, strengthening and antioxidant properties. It delivers many valuable vitamins to the skin, restores the lipid barrier, slows down the ageing process, moisturises the skin and makes it firmer
Nourishing chocolate treatment
90 min, 190 zł
It is an invigorating and draining treatment that uses natural chocolate, which additionally stimulates the body to produce endorphins improving your mood.
Algae Body Wrap
90 min, 230 zł
A slimming and remineralising treatment which is based on 100% micronised marine algae rich in minerals, vitamins and micronutrients. It stimulates blood flow and nourishes, moisturises and detoxifies the skin. It reduces fatty deposits and eliminates excessive water stored in body tissues.
Cellu Firm Expert anticellulite treatment
105 min, 220 zł
This treatment effectively reduces the visibility of cellulite and prevents its formation. Thanks to active substances, it reduces adipose tissue. Its active effect on processes which accumulate body fat lasts for 24 hours. As a result, the skin becomes firm, elastic and smooth. Blood and lymph flow is improved and cellulite is much less visible.
During a treatment, the time is stopped for its duration.
The time spent on body treatments is excluded from
your overall time limit (there is no extra charge added).
We sell professional cosmetics in the facility.
Reservation of treatments